Pour leur première fois au Festival Tendance Clown découvrez la Magik Fabrik…
Continue reading
Tout en conservant son style unique, TAIWAN MC s'aventure avec audace vers des sonorités inédites.
Pour ce nouveau projet, le MC s'est une fois encore entouré d'artistes de talent comme le chanteur colombien LANDA FREAK, ou le rappeur MISCELLANEOUS du groupe Chill Bump, mais également JAMALSKI, DAVOJAH, DAPATCH et MR WILLIAMZ, deejay londonien présent sur "Nah Leave Me Corner".
Pour compléter le tableau, PALOMA PRADAL et ANOUK AÏATA apportent une touche féminine dans "Colombian Gyal" et "One Last Dance". À la réalisation S.O.A.P, fidèle complice de TAIWAN MC, ainsi que le producteur espagnol JIM MORRISOUND sur le titre "Mr Babylon", VON D sur "Nah Leave Me Corner" mais aussi LE SPECTRE, THE ASYMETRICS, BEN MASALA, INCH, CELAS, SAMITY, ETSA et BONY FLY.
Distribution : Believe Digital /Differ-Ant Production : Chinese Man Records 2020 Format : Vinyl / CD / Digital Edition : CMR Publishing
BLUE COCOON Écrit, composé et enregistré entièrement pendant la période de quarantaine du printemps 2020, lorsque la terre était un « cocon bleu ». La nature a prospéré et l'espèce humaine a été confinée à l'inertie, à la réflexion et au bilan. C'est la contemplation du groupe ASM sur leur propre chemin et celui du monde qui les entoure à travers la lentille de l'isolement suspendu.
Historiquement ancrée dans une tradition de hip-hop classique et de boom bap, la nouvelle direction sonore d'ASM sur « Blue Cocoon » s'oriente vers des boucles de samples de mu- sique Soul et en mettant en avant un art lyrique de la rhyme et du flow, teintée d'une touche science-fiction rétro.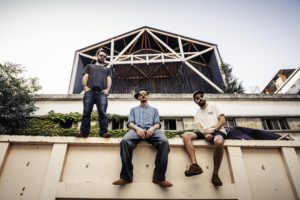 Sur le plan stylistique, le son de ce projet s'appuie sur le mouvement minimal et très actuel de boucles samplées qui font immanquablement penser aux productions récentes de Mad- lib, The Alchemist ou Jay Electronica, tout en mettant en valeur l'essence la plus pure de l'identité et de la personnalité unique du groupe ASM. Le contenu oscille entre l'effroi apocalyptique et l'exaltation pleine d'espoir. C'est la pro- duction ASM la plus sophistiquée et la plus mature à ce jour, une exploration sur la façon d'évoluer dans le paradigme du hip hop avec classe et grâce.